GO TYPE DE-COILER CUM STRAIGHTENER
GO TYPE DE-COILER CUM STRAIGHTENER Features:-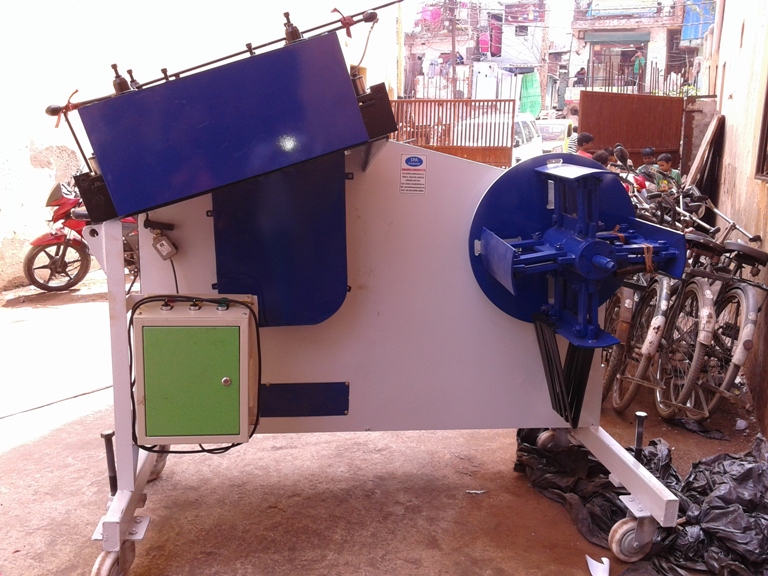 It saves volume because of integrated with both Straightener and Uncoiler. It automatically adjusts the feeding time with output speed.

It uses both electric parts and electromagnetic contact leads to increase service life.

Rolls are made of bearing steel, having quenched, hard-chrome plated and grinded with HRC60 hardness.

In Normal and High speed operation, Modern frequency converters are used for controls the Variable speed, keeping the straightening in pace, stable feeding.

Feeding loop distance is reduced by Leveler inclines.

Highly Rigid and Powerful motorized straightener.
| | | | | | | | |
| --- | --- | --- | --- | --- | --- | --- | --- |
| MODEL | WIDTH (mm) | THICK(mm) | MATERIAL I.D. | MATERIAL O.D. | MATERIAL WEIGHT | SPEED OF FEED (m/min) | COIL EXPANSION |
| SPA-32X200 | 200 | 0.35-1.5 | 425-550 | 1200 | 1000Kg | 18 | MANUAL |
| SPA-32X300 | 300 | 0.35-1.5 | 425-550 | 1200 | 1000Kg | 18 | MANUAL |
| SPA-32X400 | 400 | 0.35-1.5 | 425-550 | 1200 | 1000Kg | 18 | MANUAL |
| SPA-32X500 | 500 | 0.35-1.5 | 425-550 | 1200 | 1000Kg | 18 | MANUAL |
| SPA-40X200 | 200 | 0.35-1.5 | 425-550 | 1200 | 1000Kg | 18 | MANUAL |
| SPA-40X400 | 400 | 0.35-1.5 | 425-550 | 1200 | 1000Kg | 18 | MANUAL |
| SPA-40X600 | 600 | 0.35-1.5 | 425-550 | 1200 | 1000Kg | 18 | MANUAL |
| SPA-60X200 | 200 | 1.0-2.5 | 425-550 | 1200 | 1000Kg | 18 | MANUAL |
| SPA-60X300 | 300 | 1.0-2.5 | 425-550 | 1200 | 1000Kg | 18 | MANUAL |
| SPA-60X400 | 400 | 1.0-2.5 | 425-550 | 1200 | 1000Kg | 18 | MANUAL |
| SPA-60X500 | 500 | 1.0-2.5 | 425-550 | 1200 | 1000Kg | 18 | MANUAL |
| SPA-80X200 | 200 | 1.0-4.5 | 425-550 | 1200 | 2500Kg | 18 | MANUAL |
| SPA-80X300 | 300 | 1.0-4.5 | 425-550 | 1200 | 2500Kg | 18 | MANUAL |
| SPA-80X400 | 400 | 1.0-4.5 | 425-550 | 1200 | 2500Kg | 18 | MANUAL |
| SPA-80X500 | 500 | 1.0-4.5 | 425-550 | 1200 | 2500Kg | 18 | MANUAL |