Mechanical Over Crank Shearing Machine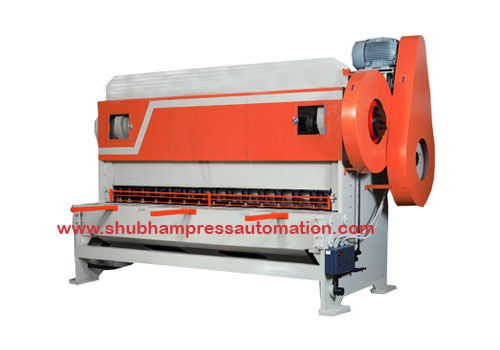 Shubhampress Automation
Mechanical Over Crank Shearing Machine have been designed and developed through structural analysis technique for continuous production, accuracy and repeatability.
Frame :

Rigid steel frame of
Shubhampress Automation
shears are optimally designed to avid weak sections at load supports and is of interlocked design. The ram is guided throughout its length by hardened and ground guide ways ensuring proper clearance and clean cut.
Hold-Down System : Spring loaded mechanical hold-down pads hold the sheets securely to avoid slipping and bowing result in clean square cut. Hold down units are provided with oversize pads to avoid impression on sheet metal.
Blades :
Shubhampress Automation
shear are provided with Four Edge, single & segment ally High Carbon, Chromium Steel Blades suitable for M.S. &.S.S. Cutting and Extra long life.
Lubrication : All bearing parts and guide surfaces are lubricated Through centralize hand-operated lubrication system.
Mechanical Back Gauge : This is a standard equipment provided on all
Shubhampress Automation
Shears. Scale on the back gauge gives instantaneous reading of distance between shear and back gauge, thus avoiding errors and maintenance encountered in electronic equipment.
Finger Guard : Fitted in front of hold-down for operator safety without obstructing viewing.
Standard Equipment : Electrical System consisting of motor & Control Panel of Starter, Gear and wheel guard, V-Belts, Hand operated back gauge, Manual Lubrication System, T-slot front gauge, Front scale gauge, instruction Manual
Optional Equipment : Hydraulic hold-down system, Automatic lubrication system, Ball roller or Ball Transfer, Foundation bolts, Extension squaring arm.
Note :

Electrical and Blades are not under Warranty.
---
Mechanical Guillotine Shearing Machines :
"
Shubhampress Automation
" brand mechanical shearing machines are available in two versions i.e. under crank and over crank having capacities starting from 500 mm to over 3000 mm and with thickness varying from 2 to 12mm. Machines incorporate several standard, optional features like hold down systems- mechanical, hydraulic manual or auto lubrication systems- mechanical back gauge; ball roller or ball transfers; extension squaring arm finger guard etc. Special versions can also be offered to meet specific production requirements.